---
 Construction
Wust, a company of the Besix Group based in Malmedy, is executing construction works on traditional buildings, industrial halls, renovations, development projects, etc. Mainly in Wallonia and Luxemburg. When we met Lilo Castellaci, (IT Manager, Wust) he had some construction sites in Wallonia where they could not get any connection at all, with none of the different providers. They could not get a fixed line and they tried working over mobile data of Orange, Proximus and Base. None of these solutions gave them a good Internet connection.
We provided him with our Venn Nomad solution, working with 2 modems over mobile data at the same time on our high-quality CPE. Due to the aggregation of 2 networks, we increased the speed, stability and network connectivity. When we provided them with the Venn Nomad, we were delivering downstream bitrates up to 25 Mbps and upstream bitrates up to 11 Mbps on these locations.
They had so many problems to have decent Internet connections on site, they decided to roll out systematically our solution for many of their sites! Because of the very short delivery times, within 48 hours delivered after order, and flexible contracts it is a very easy solution for them. It also saves a lot of time in administration, since they do not need to test different kind of solutions anymore on site and they do not need to wait 2 months anymore before they can get a fixed line. They just sent an email and 48 hours later they have a connection on site, preconfigured according to their standards, that works everywhere. It's that easy, flexible and smart!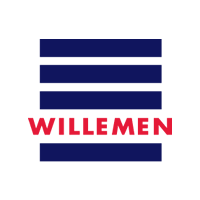 Willemen Groep is the biggest Belgian family owned construction company. Franki Construct, Aswebo, Kumpen, Van Wellen, De Waal and Cosimco are part of the Group that is active in road works, buildings, civil engineering, renovation and project development. A site leader of Willemen Group was suffering from highly unstable internet on site in Ham, just next to the E313. It was not possible to get a fixed line on this location and as well with Orange as with Proximus this site leader was experiencing a lot of problems. It could work fine for half a day, but then again no connectivity for a couple of hours, not knowing how and when it would happen. After our installation of the Venn Nomad the connection never went down anymore! Due to the combination of the different networks of Orange, Proximus and Base and the smart algorithms at every moment in time the best possible connection was always up with a high-quality connection. The site leader was really, really happy…

---
---
 National Busses
 CitySightSeeing Busses is world's leading open bus tour operator. Their famous red busses drive around many different cities where they drive around the city and pass along the important sightseeing points that the city has to offer. They have a very international audience of tourists that hop-on and hop-off the busses to explore the cities. To provide their customers with WiFi, we have equipped their busses in Brussels and Paris with our Venn Basic solution, with national data of multiple providers. The tourists connecting to the WiFi come on a landing page of CitySightSeeing and can surf from there on the web. The Venn Basic also gives internet connection for their camera's on the busses and tracks their busses with a GPS. In their office they have a TV installed where a map is displayed and where they can monitor live where all their busses are in the city.
---
International Busses 
Staf Cars is an auto-car company offering bus rides for VIP, schools, international groups, tourists,… and acts as a tour operator. Therefor they have many international trips that can go to Spain, Italy, UK, France, Croatia, Sweden, Czech Republic,…. in fact all over Europe. The passengers and tour operators are more and more asking to have a good WiFi connection on board so they can check their emails and surf on the web. Therefore Staf Cars has deployed our Venn Basic solution for busses including an international data package that allows them to give WiFi to their customers all over Europe. Since the connections are managed by Venn, they have no worries, everything is arranged for them and they can focus on their core business. It is provided in an all-in-one package, including a data bundle and therefore are no surprises (in cost) possible, everything is arranged for a flat monthly fee (no roaming surcharges). The passengers are connected with up to 80 people at the same time on the bus. There is a setting activated that each user can consume up to 100MB/user/day to make sure that all passengers can make use of the bundle all month long.
Fungroup is an event company that hosts several attractions, such as Benji-fun, rent-a-stage, tent-renting and events-in-the-sky. With the latter attraction they have hosted Dinner In The Sky, an event where people literally have a 7 course dinner on a table while hanging 30 meters above the ground in the sky! They hosted this event at the Atomium in Brussels and due to the big success of the events they expected lots of people. To be able to serve them well, they had set-up an ticket system at the entry, working on Ipads over the internet. They also needed a WiFi to be deployed over the area for their guests and the crew and they needed a connection to set up a video stream to see some Tennis Games of Roland Garros and some soccer games of the European Championships. To cover their needs Venn had provided them with a solution that could all of these things. As needed for events, everything was set up in a very short period of time, giving them the right flexibility to host such a spectacular event!
---
Utilities
 Visser & Smit Hanab is a construction company active in utilities, working on cabling, piping, electromechanics, cilvil works and other infrastructural works. They operate quite often on big gas & oil factories like total, BASF and Exxon. Due to the heavy regulated HSEQ environment on those production sites, it is quite often forbidden to dig in the ground to get a fixed internet connection on site. Therefor they are obliged to work with mobile data. However, when you have 40+ people on site, that all need to be connected to the internet, the connection can quickly become saturated and become very slow. Before working with Venn they also had issues in managing the different sim cards. They used sim cards of 8GB of Proximus and every time the speed went down because they reached the 8GB limit, they had to switch sim card, again until they reached the limit. Usually it was ok to work with 4 sims, but in some months the data of the 4 sims was already used before the end of the month, needing them to work the last couple of days over a 128 kbps connection…Now they use our Venn Office solution on site, where they are provided with a 4 modem CPE that delivers the necessary speed to be able to work efficient and fast with 40+ people on site. As it is an all-in one solution, they don't need to bother about the different sim cards, it is provided for them with 3 providers in one pool. They are always on full speed, the whole month long.
Temporary internet solutions
Bohnenkamp is a Dutch company that imports "off-the-road" tires. They have set up a new office in Belgium, region Mechelen. With setting up a new office there is a lot to be arranged from new desks, new chairs,.. but also to get an internet connection in the office to make sure everyone can work. They had requested a fixed line to their provider, but this would take 2 months, while the office was already opening and people needed to work. To solve this issue they used our services and had a Venn Office installed
within 48 hours
in their new office so everyone could access the internet from day 1 until the fixed line arrived. Because it took the fixed line provider even longer then originally expected, they prolonged the service, to make sure internet was present until the fixed line was installed.
---
 Fixed Line Aggregation and VoIP deployment
Brussels Major Events (BME) is an organization that hosts events for the public sector of Brussels and has it's offices in Brussels. Their team is over 20 people and like every company they need good internet connections to work efficiently. However the fixed line of Proximus they had available was very slow and unstable. Phone lines were dropping al the time and were unreliable. Venn deployed a solution where we aggregated the fixed line of Proximus with a fixed line of SFR into one connection, getting the aggregated speeds of both lines and a very reliable and stable internet connection. On top of that VoIP was deployed for all employees to have a reliable and unbreakable phone connection.
---
Failover
Cronos Groep is a group of more then 200 different companies with over 3500 people. Many of these companies are located on different places and are equipped with a single fixed line.
Nowadays working without an internet connection is almost the same as being unemployed. Therefore the Cronos Groep has taken a failover solution of Venn to make sure they can keep up the connection whenever a fixed line would be out. They have a Venn Office that can be deployed in 2 minutes to become the main connection in any of the companies. The Venn Office makes sure the connection is up over 4 mobile connections, so they can continue to surf while in the mean time the fixed line can be repaired. In this case they have chosen for a mobile solution that can be deployed on different locations. Venn can also provide a permanent setup that automatically switches whenever the line is down.
---
Banking
KBC is one of the biggest Belgian banks. To be present on big festivals and big events for their customers, KBC has developed a "banktruck", which is a moving truck with bank terminals inside, so KBC can just drive to the next event with the truck and be present for their customers who are in need for a cash withdrawal. Because this car can be almost everywhere, on any event on a distinct location, it was not that easy to make sure they had the right connectivity at all time. Therefor they have deployed the Venn Office, making it possible for them to be connected on the three Belgian providers and assure a good stable connection to make sure they can deliver the necessary services for their customers.
Next to the installed Venn Office in the bankwagen, KBC also uses a more mobile version whenever they are present on recruitment events, sponsoring events, trade shows, so they can quickly set-up their own network on any of these events to be ensured they can make a success of any event.
---